Global View - HSA (Hanna, Suzy and Ashraf)
is an Egyptian firm of public accountants and consultants founded in April 2008. Global View -HSA achieved its prominent position in Egypt through the achievement of its owners who had provided quality advisory and consulting services for more than twenty years, to multinational companies, large national corporations and prominent private businesses as well as public sector companies and banks. Global View – HSA is located only in Cairo with one office employing 22 employees. Hanna, Suzy and Ashraf; owners of Global View - HSA had a proven history of success in responding to clients' challenges and needs. Their continuous process of improvement and development ensures they meet the demands of their clients. "It is our understanding, respect and detailed knowledge of our clients and their needs that have enabled us to maintain our position as successful professionals in the field and to incorporate Global view - HSA to be seen as one of the most successful and reputable firm in the field."
We are independent members of Leading Edge Alliance
---
Our firm is proud to be an independent member, since 2010, of The Leading Edge Alliance,
LEA Global a multi-billion dollar global alliance of major independently-owned accounting and consulting firms. Founded in 1999, LEA Global is the second largest international professional association in the world, creating a high-quality alliance of more than 200 firms focused on accounting, financial and business advisory services. LEA Global firms operate from 620 offices in 110 countries, giving clients of LEA Global firms access to the knowledge, skills and experience of more than 2,300 partners and 23 000 staff members. LEA Global firms' unique alliance enables them to maintain their independence, while working together to provide the ultimate in client service and providing valuable access to understand the cultural and commercial norms across the globe. Working collaboratively, LEA Global firms focus on client service, meaning the partner in the original engagement stays involved. That connection provides consistency and intimate client knowledge – a practice indicative of the value LEA Global places on the qualities of thought leadership, in-depth knowledge, expertise and proactive advisory services.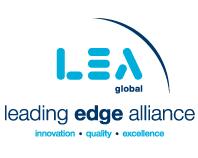 Global View for Financial Consulting ; LLC
---
We are proud to announce the establishment of an affiliated new company in June 2016; namely " GLOBAL VIEW FOR FINANCIAL CONSULTING; LLC"
which provides financial consulting services including but not limited to : Bookkeeping services, due diligence, training and other relevant consulting and advisory services. Bearing in mind; that growth and change are two business realities that business cannot ignore, we sustain strategies that help your business innovate and grow while reducing costs and leveraging talent are just as essential as having the agility and creativity to respond to rapidly changing environments. By taking time to understand your business and the issues and challenges you are facing, our advisory teams use local and global knowledge to help you challenge conventions and introduce and deliver strategies that work specifically for you. "Business is not just about the numbers. We develop a real understanding of your business and the market you operate in that enables us to proactively help you drive greater efficiency and increase profitability". 
As an organization of professionals,
is to understand the business of our clients, to help our clients identify their business and financial needs, and to provide the services that will help them achieve their business and personal financial goals. We are committed to providing the most efficient and expeditious services, while always maintaining the highest ethical standards.
At GLOBAL VIEW, our most important assets are our people and our reputation. We are committed to excellence, both internally and externally.
For this reason, we encourage and invest in the training of our people and in continuing education to further develop their professional abilities. In return, we require that our professionals use their talents to achieve and maintain total client satisfaction. As a firm, we are dedicated to maintaining and enhancing our trademark service. Foremost among these is the commitment of our partners and staff to look beyond the numbers and see the opportunity, challenges and solutions in every engagement. Creativity, innovation and teamwork are important facets of our approach to business. We insist on giving our clients individual attention, and achieve this by listening to our clients and communicating with them openly, promptly, frequently and effectively. Because of our genuine desire to help our clients improve their operations, we take a proactive approach to their business. We remain objective and unwavering in our commitment to excellence and our commitment to investing in our people.
Illustrative Credentials of Firm

---
Our firm is one of the leading providers of audit, accounting and special assignments to a multitude of national and international clients within the wide range of industries. An illustrative selection of industries and services provided in Egypt include;

---
- Pharmaceutical industry (IT compliance – Assurance and advisory services)
- Financial institutions (Readiness project for clients' data base import to new software)
- Oil and Gas (Fraud investigation – special audit on a component in the financial statements)
- Oil and Gas (Outsourcing services – acting CFO on temporary basis)
- Manufacturing (Consulting and book keeping services – Assurance & Advisory Services – Payroll Tax services – Tax consultations)
- Non for profit organizations and special funds (Assurance and Advisory services)
- Trading Companies (Assurance and Advisory services – Bookkeeping Services)


---
- Service Companies (Assurance and Bookkeeping services and Tax Services)
- Energy(Assurance and Advisory services)
- Software Development Companies (Incorporation services, Feasibility Study and Assurance and Advisory services )
- Freight forwarder Companies (Assurance and advisory services)
- Aviation (Reporting on prospective financial information – Business plans – Assurance and Advisory Services – Payroll Tax Services – Incorporation services)
- Travel agencies (Transformation from partnership legal form to joint stock companies)
- Real Estate (Assurance and Advisory services)